Mikasa and Volleyball Bundesliga extend their partnership for another four years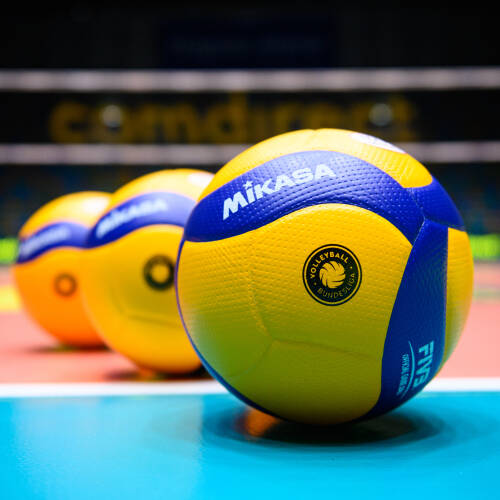 Photo: Conny Kurth
Mikasa Corporation, the global market leader in volleyball, remains the Official Exclusive Volleyball Supplier of the Volleyball Bundesliga. The contract with the ball partner will be extended for another four years until June 30, 2025.
"We are honored to extend this partnership with the Volleyball Bundesliga," said Mr. Saeki, president of Mikasa Corporation. We will continue to work tirelessly to elevate the fun of the sport of volleyball with Volleyball Bundesliga. Also, we, Mikasa Corporation believe that revival of sports would bring courage, hope and fun to the people in the world.
The long-established Japanese company provides balls, ball carts, ball bags and mini volleyballs to all teams in the 1st and 2nd leagues each season and further supports the Volleyball Bundesliga at highlight events such as the DVV Cup final, the final matches in the leagues and the Supercup with further material such as the golden Trophy balls.
"Mikasa has been a reliable partner of the Volleyball Bundesliga for almost 20 years," says VBL President Michael Evers about the cooperation that began in 2002. "We highly appreciate that the contract extension is happening to this extent in the current situation. After such a difficult year as 2020, this cannot be taken for granted."
VBL Managing Director Klaus-Peter Jung is also very pleased with the extension of the contract, including a significant increase in the license fee. "Mikasa has been setting standards worldwide for many years when it comes to the quality, production and further development of volleyballs. I am very pleased that the Volleyball Bundesliga can work together with the currently best manufacturer on the market for another four years. The volleyball know-how at Mikasa is enormous. We benefit from this knowledge as a partner."
At Hammer Sport AG, which represents
Mikasa in Germany as a general importer, supports the partnership with VBL and is also a long-standing partner and sponsor of the German Volleyball Federation, the German volleyball youth and further ten regional volleyball federations. The Managing director Mr. Markus Hammer is also very delighted about the continued cooperation: "We were one hundred percent convinced of this partnership from the very beginning. Volleyball is a great sport that we are happy to support."