CEV and MIKASA extend their partnership until 2028
Rome, Italy, September 16, 2023. Only a few hours after the gala organised in the 'eternal city' to celebrate the CEV's 50th anniversary and with the CEV EuroVolley 2023 Men medal matches coming up later in the day, MIKASA Corporation and the CEV signed the extension of their already long-lasting cooperation for another four years from 2024 up until 2028.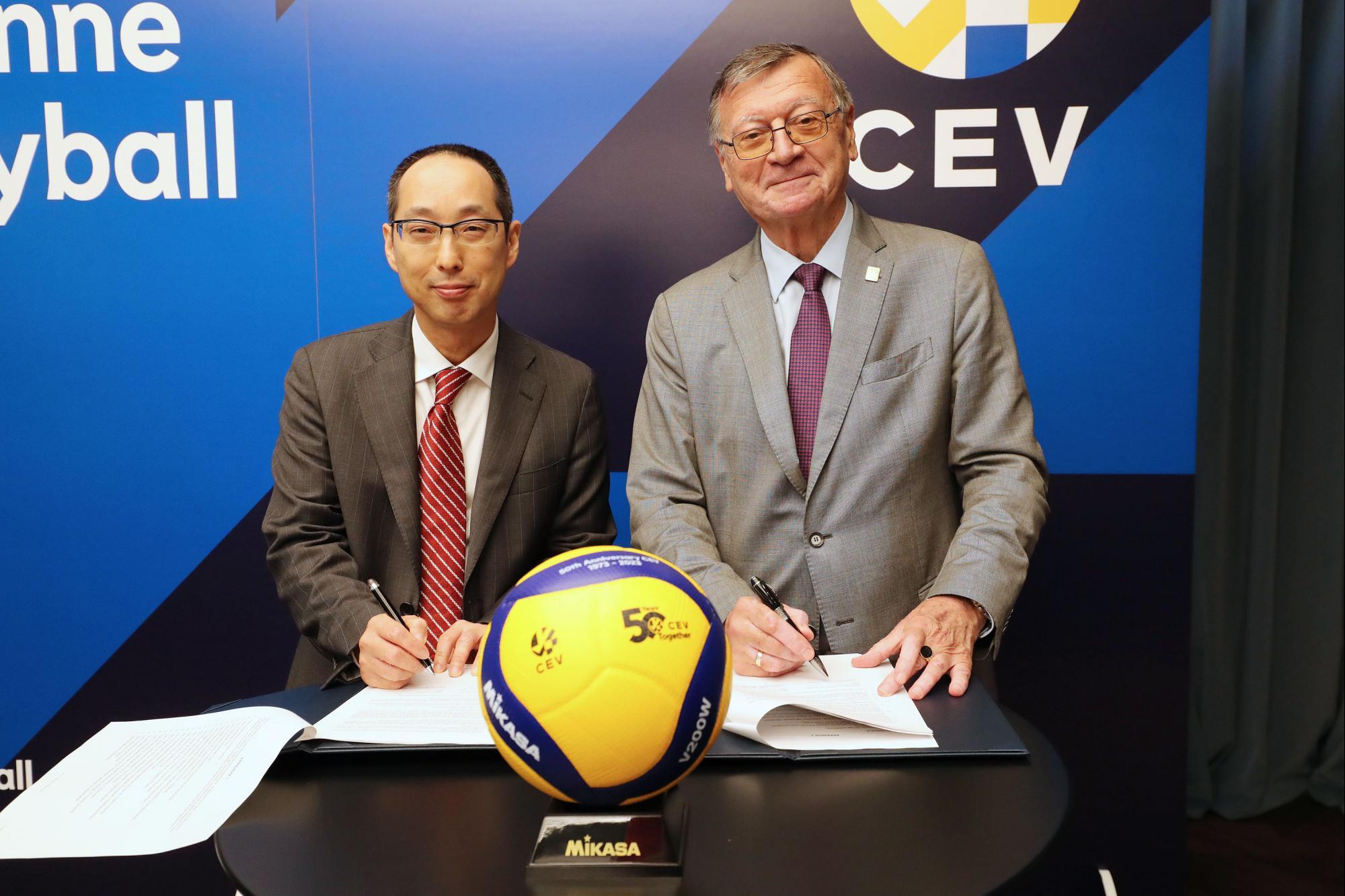 The President of MIKASA Corporation, Mr Yuji Saeki (left) / CEV President, Mr. Aleksandar Boričić (right)
MIKASA CORPORATION (hereafter called "MIKASA") and Confédération Européenne de Volleyball (hereafter called "CEV") have been working closely together for decades to develop Volleyball, Beach Volleyball, and most recently Snow Volleyball as well across Europe.
With this latest agreement, only MIKASA balls will continue to be used in all European continental competitions run by the CEV until 2028. Apart from their involvement with elite sport, MIKASA has also been supporting the CEV School Project 'Play Volleyball – Grow with it', which has helped inspire children to take their first steps in Volleyball across as many as 27 countries, thereby mobilising tens of thousands of kids while promoting a healthy lifestyle and the development of the sport at the grassroots level. Moreover, back in 2014, the CEV and MIKASA worked on the design and introduction of the iconic green and yellow ball which has ever since become synonymous with the elite CEV Champions League Volley.
The President of MIKASA Corporation, Mr Yuji Saeki commented: "MIKASA is extremely pleased to renew our partnership with the CEV as well as to be able to offer our products to people around Europe who enjoy playing Volleyball, Beach Volleyball, and Snow Volleyball. We will continue to work closely with the CEV for the development of Volleyball in all its forms."
CEV President Mr. Aleksandar Boričić said: "A trusted partner such as MIKASA is an incredible asset we can rely on in our continuous efforts to grow the game at all levels. Throughout the years, we have developed a good understanding of each other's needs and we thank MIKASA for all their support – which spans from the delivery of our top events to activities specifically designed for kids at the entry level of the game. We look forward to many more years of such productive and successful cooperation for the good of the sport that we all love so much."