CEV and Mikasa extend their partnership for another four years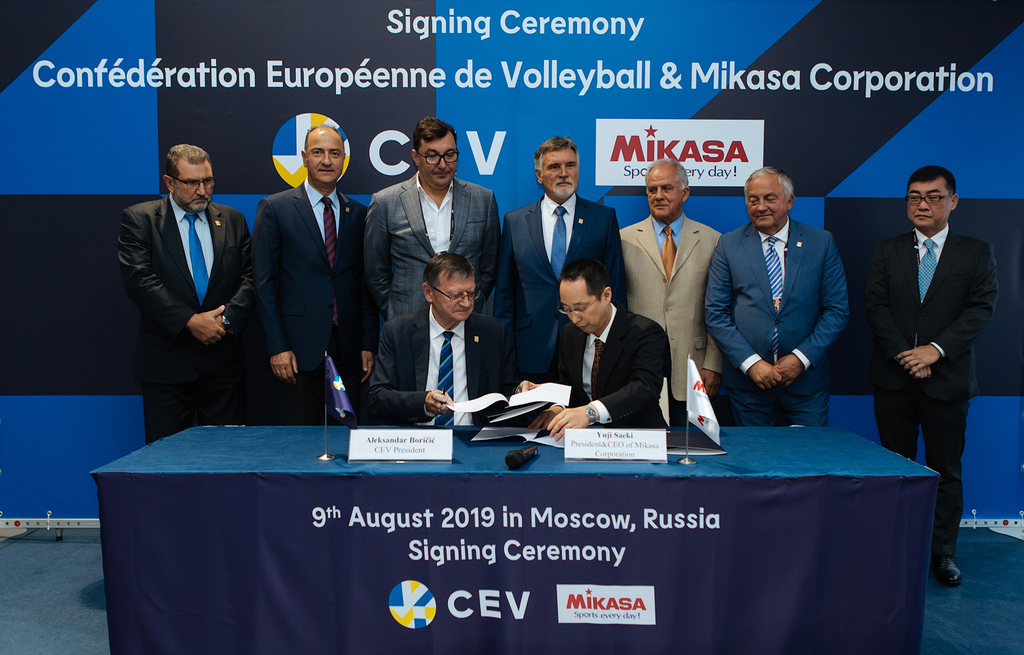 Moscow, Russia, August 9, 2019. The CEV and Mikasa Corporation have extended their long-term partnership for another four years up until 2024, following a signing ceremony held on Friday late afternoon in Moscow, right at the iconic venue that is currently playing host to the 2019 edition of CEV EuroBeachVolley. The two organisations continue to work closely together to grow the game at all levels, as they both strive for innovation and work hard to modernise the sport.
CEV President Aleksandar Boričić and the President and CEO of Mikasa Corporation, Mr Yuji Saeki, signed the extension of the cooperation for another four-year term. "We had very fruitful and productive negotiations with our long-term partners and friends at Mikasa," the CEV President said. "I am especially happy to see that we share the same vision and determination to grow the sport at all levels, from the grassroots to the top events, and this is where the extension of our partnership becomes especially important," he continued.
The CEV have fostered a tremendous transformational journey of European Volleyball and its governance under the leadership of President Boričić. "Mikasa understand the virtuosity of this process and its benefits towards the further growth of Volleyball and I am pleased that they have accepted to support us for another four years, with an unprecedented level of commitment. The prolongation of the partnership truly shows that we are one Volleyball team, sharing the same goals and vision," the CEV President concluded.
"Mikasa Corporation is extremely honoured with the extension of our partnership with the CEV and with the opportunity to support their Volleyball and Beach Volleyball events as well as the long-term growth of the sport in Europe by providing everyone involved with the right products to play Volleyball and Beach Volleyball, Together with the CEV we will continue to work hard and strive for more excellence," Mr. Saeki concluded."