Sir Perugia team won the Italian Supercup Men's 2017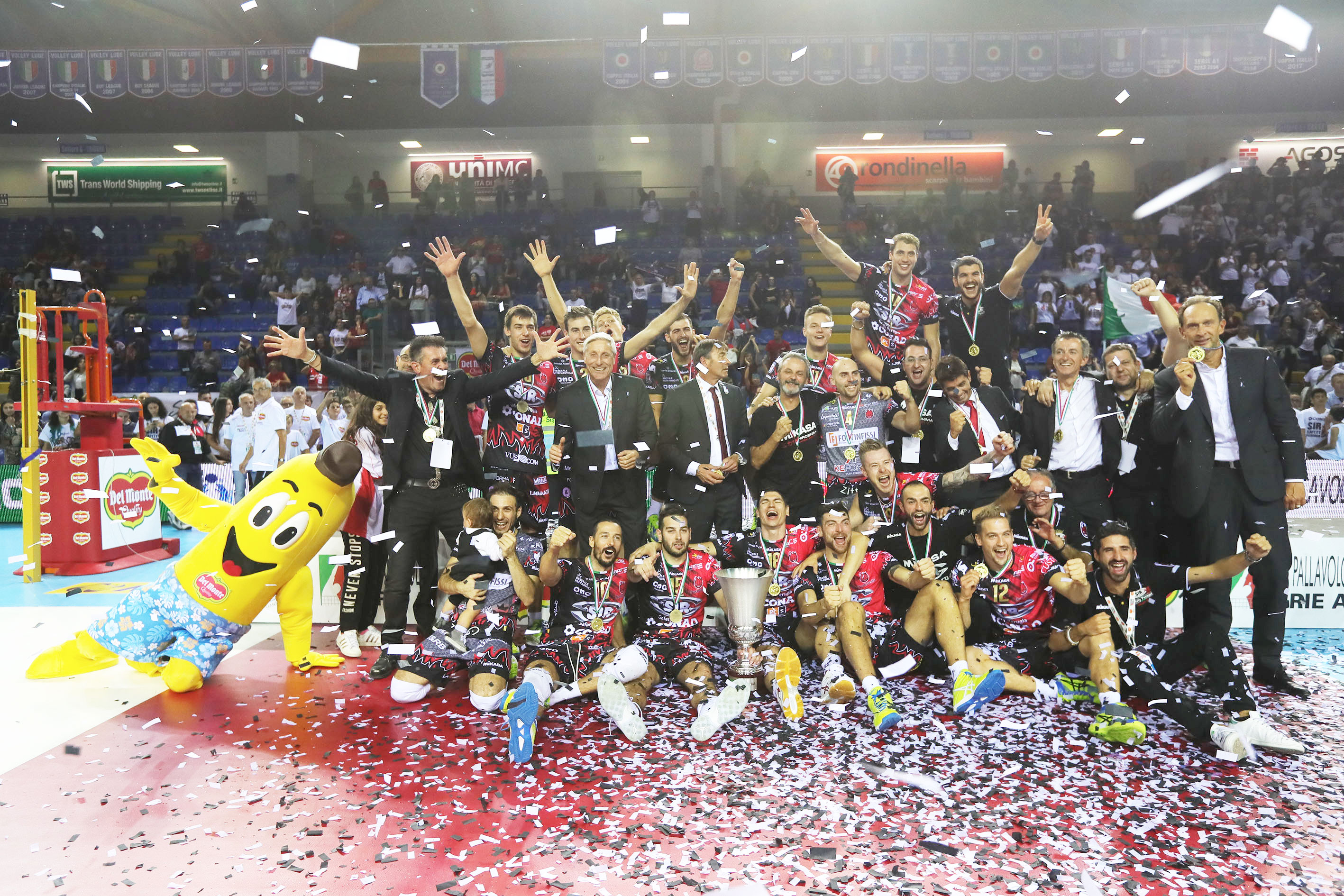 THE FIRST TIME EVER OF SIR SAFETY CONAD PERUGIA BLOCK DEVILS CONQUERED THE ITALIAN SUPERCUP
The speaker of Male Italian Supercup presented the final of Italian Supercup using these emphatic words: "This is the moment, this is the match".
For Perugia players, this phrase has become a mantra in front of enthusiastic 4291 volleyball fans at Eurosuole Forum in Civitanova Marche.
After five silver medal in Italian and European Competitions, Sir Safety Conad Perugia finally lifted his first trophy in the history, the Del Monte Supercup 2017/2018 is for Lorenzo Bernardi's team, after an emotional game versus home team Cucine Lube Civitanova.
The joy of the win started after a spike of US player Aaron Russell, who is elected the MVP of the match. He closed the match point in which everything has been seen: powerful spikes of Cucine Lube Civitanova and amazing digs of Sir Safety Conad Perugia, with Ivan Zaytsev flying over three meters from the bottom line to save the MVA200 that has changed forever the history of this Club.
Italian Supercup was also the first opportunity to see the new home and away jersey of Sir Safety Conad Perugia. The 2017/18 kits, born from the profound synergy between Mikasa Italia and Club, amaze the aggressiveness they transmit thanks to a graphic project that can be renewed at all times, without sacrificing its symbols as the flames . The color is absolute protagonist. The racing jerseys blend two contrasting colors for a defined bicolor effect also present on the shorts (gray with black for the home, red with black for the away). Sir Safety Conad Perugia jerseys are 100% Made in Italy.
As usual for the great events organized by the Italian Volleyball League, the Final Four of Italian Supercup has also received great media coverage abroad. The Finals were broadcast in Bahrain, Iran, Iraq, Jordan, Kuwait, Lebanon, Oman, Palestine, Qatar, Saudi Arabia, Syria, EAU, Yemen, Algeria, Chad, Egypt, Libya, Djibouti, Mauritania, Morocco, Somalia, Sudan and Tunisia, Serbia, Kosovo, Croatia, Bosnia and Herzegovina, Slovenia, Macedonia, Montenegro, Poland, Bermuda, Bahamas, Antigua and Barbuda, Caiman Islands, Jamaica, Granada, Barbados, British Virgin Islands, Santa Lucia, Trinidad and Tobago, San Vincenzo and Grenadines, Cyprus, Turkey, Greece. The winning streak of the Mikasa Team Uniform in 2017 seems to never end and November 1 is the last event with the victory for this solar year. Imoco Volley Conegliano, who hold the 2017 National Cup, will challenge Novara, the team that has stood the last championship in the 2017, in Female Supercup.