The 28th SEA Games plays with Mikasa as Official Game Balls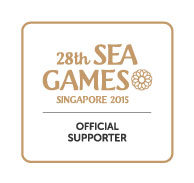 The Mikasa indoor volleyball(MVA200), football(SL450) and Water polo balls(W6000W and W6009W) will be the official game balls played in up-coming the 28th SEA Games which will be held in Singapore from 5 to 16 June 2015.
Mikasa Corporation is exceedingly honored with the contract and the partnership to the SEA Games event to support all these sports. With this partnership, Mikasa Corporation sincerely hopes to play an effective and productive role in the continued growth of Volleyball, Football and Water Polo in South East Asian Countries as well as in the rest of the world.